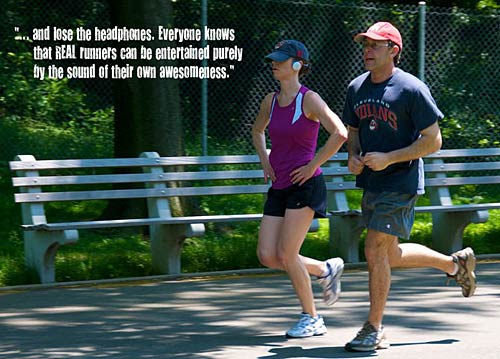 So what's' better than a 3k run? A 4k run of course!!
I have finished with the almost pedestrian (in comparison) section of my running plan which had me on 2k runs for the last 3 weeks. This was ended by my first 3k last Sunday and now 4k Yesterday, and I can honestly say that the gloves are now off. This has made me aware, however, of the need to get some proper tunes organised to help pass the time as the distances are going to get pretty scary now. This Sunday is my first 5k and then 7, 10, 12, 16, 18, 24, 32 Argghhh!!! Then 42k!!!! So, you can see my dilemma. To stop my brain from realising what I am up to so it can't tell my legs to go on strike, I must fool it into thinking it is being entertained. If anyone is a runner or has a mate who is or is just a music buff, let me have a list of songs to run to which are not the current hard rock stompers I have now. I was running yesterday and the Mumford song 'The Cave' came on. I was fine until the banjo kicked off and I was whisked along on a Michael Flatley style wave of euphoria! Not good. So thinking caps on, this is important and no reasonable recommendation refused. I will name check all those who send in stuff I can use and maybe make up a top ten suggestions chart or something for a bit of fun.
Playlist sorted, we can focus on the running bit which is getting tougher I must say. Now, 4k doesn't seem that much further than 3 does it? but it bloody well is! Bear in mind that I have to run away from my house at a set pace and back again. I have been running to the same point 4 times a week but now, I'm running further away, which means further from the couch and psychologically, that's where it hitting home. There is no, 'I don't feel like it' or ' I can't possibly miss the minor celebrity fame factor on ice, Christmas special'. This is it now, although, the 4k was not that bad, it's the other 38k that worry me.
Oh, I have an update on the bug issue from last week. I was asked if I had a solution recently on how not to swallow your body weight in bugs while running? Well, I was trying to breathe through my ears for long periods but after 300 meters I pass out so that's not going to work. My knew plan is to run with my head in a woman's stocking but I look like a bank robber running from the scene of the crime,
this was causing dog walkers and small children some distress so, again, failed in the early stages. I had it all worked out for Dragons Den too, The Jog Stocking, it was going to be huge.
That's it for this week thanks for reading. Tune in for the 5k update next week and a photo of one of my toes!?
160 days to go!
I am obviously running for charity, as you can see and the
Get Kids Going
chaps do very good work in supplying access and sports equipment for disabled youngsters. In this Olympic year, a lot of kids will be watching and may be inspired to get involved in a sport for the first time. Less abled kids should be given the same opportunities and
Get Kids Going
does just that. I want to raise enough for a new sports wheelchair which cost about £4k and I am going to try to get 4000 people, through social media sites and this blog, to generously give £1 and become a real 1 in 4000 hero. I have a text number set up which people can text in a donation through the
Vodaphone Just Giving
website and a
Virgin Giving
website for larger web donations.
Please help if you can
Text Donations: To: 70070 (UK only)
Then Type: WASP99 (followed by) £1 (or any amount)
Or vist my Virgin Giving page at
www.virginmoneygiving.com/imustbecrazy