Pesky Wabbit!!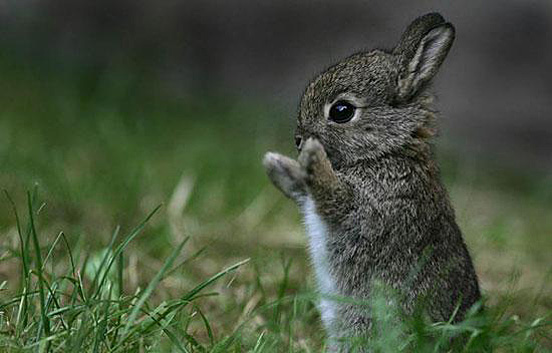 I must say, I am very lucky where I live to be able to run in the countryside and not in the city. I have named the route I take on my runs as bunny alley as there are hundreds of these little chaps bobbing about. It is my ambition to teach them to eat bugs and flies and not grass, which will solve a particular problem of mine. They must be able to jump that high surely?
This leads me on to a less cute form of wildlife which is a pack animal and is rarely seen during the day but comes out in the twilight hours to sulk about in our parks, namely the........................................................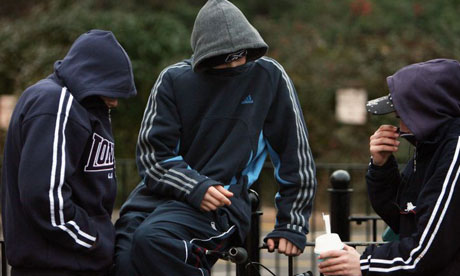 ........HOODED YOOF!
I ran passed three of them on a park bench, a female one said something but I had my earphones in and was unable to hear, so I gave her my happy face (can be mistaken for IBS) and happily carried on. On my way back however, I removed my earphones so that, if there was some banter to be had, I could engage with the scrawny pond scum. I don't try to pre judge the yoof too much as they get a raw deal (some of the time). As I approached the tribe I was greeted by the call of 'Prick' by the same female but at that I turned to her, looked her square in the eyes and said, 'I can hear you'. Her hoodie must have been a pretty unpleasant place to be at that moment, as she squirmed and muttered a pathetic 'sorry' but an apology all the same. I can't imagine letting loose a bowel movement in a hoodie as it must cause the smell to linger around your head for quite a while, not unlike farting in a space suit me thinks. I did ponder on replying with a playground style 'Oh yeah'! and run off (Napoleon Dynamite style) but at 46 it would be hard to justify it, even for this blog. The cool thing to do was just plug in the headphones and carry on. Great plan. Only let down by one small detail. I cross the cycle path, over the foot bridge and nearly fall flat on my face on a patch of mud as I try to negotiate a grassy hill as a short cut. Needless to say I don't look back. I was quite glad I put my earphones back in at that point.
So. I am up to 5k runs now and this is my 5th week of running. For those of you who have only been drawn into this blog because of the fluffy bunny (it was a cheap trick but I was getting no feedback and I saw a post last week of a picture of a puppy and that got 500 comments!! As an experiment I have cheesed the trap so to speak - it's for charity) I am running the NY marathon in November and it's my first ever (Please read previous posts to get you up to speed). I must say that I do feel a lot better for the process so far. I am eating properly and have more energy in general which is a very good side effect and I would highly recommend exercise if you are thinking of not fading into the couch, as I was. I am 13 stone 5 pounds now (85kg) from 14 st 4lbs (91kg) The asics plan is very good and I recommend that you start out slow, as it suggests and even a fast walking pace for 20 mins a day can do wonders for you (always seek medical advice before starting any fitness regime). What I don't recommend is dropping a picnic bench on your big toe (I bet you thought I had forgotten) yes I do have a picture for you, as promised. This may not seem that bad from where your sitting but from dropping it and to watching it turn black and blue, took about 15 mins and I was quite worried that I had broken it and sabotaged myself at a very early stage. This caused me to feel a mild panic come on, as I can get a bit obsessive about stuff like this. But I can report that all is well and the bruising and swelling have subsided.
So here it is
And that about does it for this week.
Thanks for reading
151 days to go
AR
I am obviously running for charity, as you can see and the
Get Kids Going
chaps do very good work in supplying access and sports equipment for disabled youngsters. In this Olympic year, a lot of kids will be watching and may be inspired to get involved in a sport for the first time. Less abled kids should be given the same opportunities and
Get Kids Going
does just that. I want to raise enough for a new sports wheelchair which cost about £4k and I am going to try to get 4000 people, through social media sites and this blog, to generously give £1 and become a real 1 in 4000 hero. I have a text number set up which people can text in a donation through the
Vodaphone Just Giving
website and a
Virgin Giving
website for larger web donations.
Please help if you can
Text Donations: To: 70070 (UK only)
Then Type: WASP99 (followed by) £1 (or any amount)
Or vist my Virgin Giving page at
www.virginmoneygiving.com/imustbecrazy